COSMOS COPA NYC =DATE('Y')?> / NEW YORK COSMOS HOSTING 7TH ANNUAL COSMOS COPA TOURNAMENT
NEW YORK COSMOS HOSTING 7TH ANNUAL COSMOS COPA TOURNAMENT
By Cosmos News Service
NEW YORK (May 22, 2015) – The New York Cosmos announced today that the grassroots tournament Cosmos Copa will return for its seventh edition this summer in New York. The Cosmos also officially announced the 32 participating teams from around the tri-state area.
Cosmos Copa is the nation's preeminent amateur adult soccer tournament that unites New York City's diverse community through sport. In this international tournament, the best soccer players in the tri-state area represent their country of heritage. Local teams representing 32 different countries will compete for the title of "Cosmos Copa NYC Champion" – in honor of both New York City as well as their country of origin.
For the second successive year, the Copa title match will be played on the same field that the Cosmos play their home matches on – Hofstra University's Shuart Stadium. The Cosmos host the Fort Lauderdale Strikers on Aug. 2 in league play, with the Copa championship game also taking place that day.
The Cosmos will again team up with staff from its official charity partner, Street Soccer USA (SSUSA) to produce the tournament, including facilitating the day-to-day operations of Cosmos Copa.
SSUSA is a non-profit organization that uses the power of soccer to help at risk and homeless youth and young adults dramatically transform their lives. They utilize the power of sports, in this case soccer, to promote player development not merely on the field, but in every aspect of life.
This year's Copa tournament also sees the implementation of a new tournament format that more closely mirrors the World Cup format. In previous years, there were "Elite 8" teams that received a bye from the group stage, but in 2015 all 32 teams will start from the same stage with seeding determined by how teams fared in the 2014 tournament. Furthermore, the Round of 16 which commences on July 19 will become a knockout round for the first time.
The 32 qualifying teams this year that will begin group stage play on July 4 are: Afghanistan, Albania, Argentina, Colombia, Croatia, Ecuador, England, El Salvador, France, Gambia, Ghana, Greece, Guinea, Guyana, Haiti, Holland, Honduras, Ireland, Ivory Coast, Jamaica, Japan, Kosovo, Mexico, Paraguay, Peru, Poland, Ukraine, Scotland, Senegal, Spain, USA and Uruguay.
The official Cosmos Copa tournament draw party, as well as all game dates and details will be announced in the coming weeks. For more information, visit CosmosCopa.com, follow the tournament on Twitter @CosmosCopa and like the Facebook page.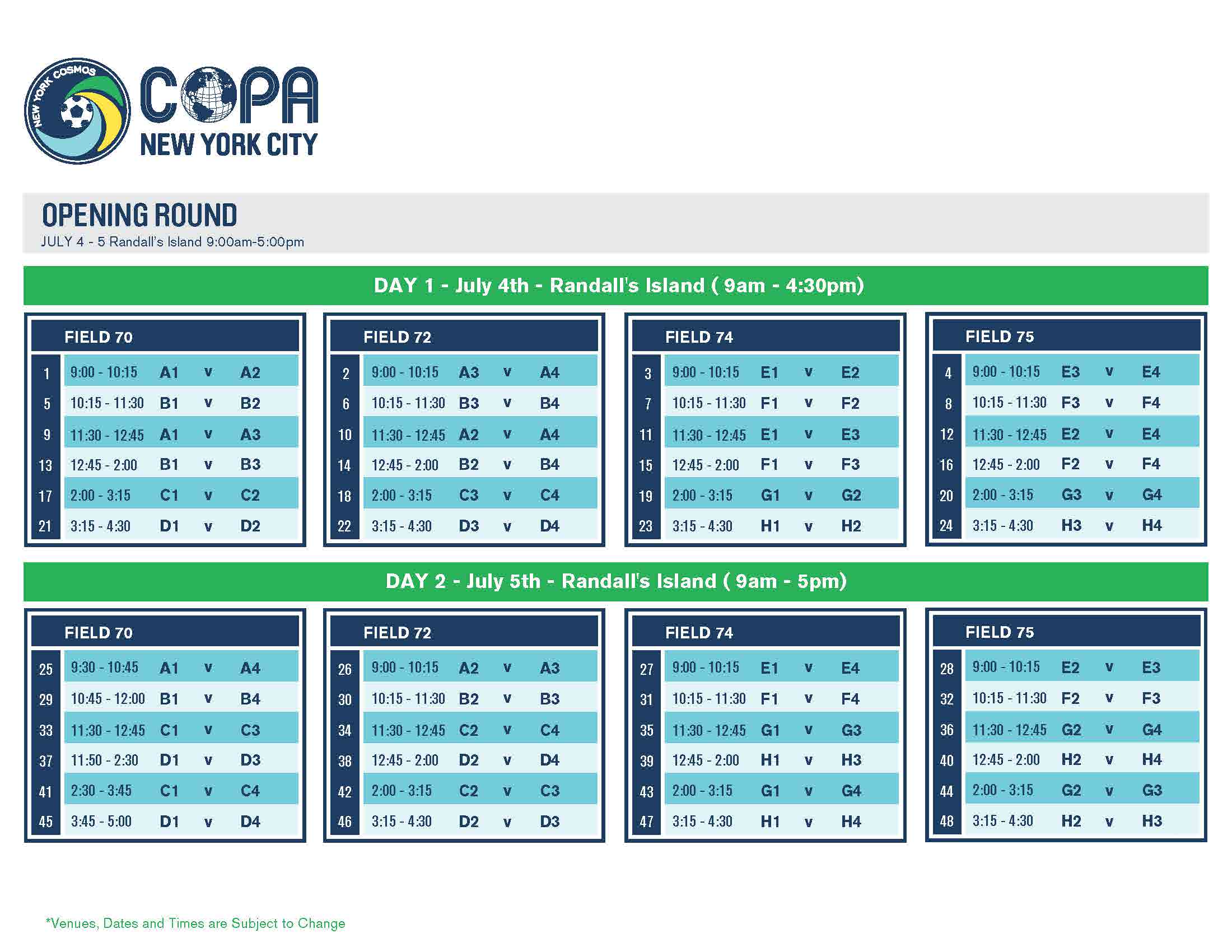 About Street Soccer USA
Street Soccer USA is sports for social change. Using our entrepreneurial instinct as well as evidence based practices, we make a measurable difference in the lives of underserved youth in urban areas and special needs populations, including homeless families, adults, people in recovery, among others. Street Soccer USA is heaquartered in New York City, NY and San Francisco, CA with grassroot programs in 16 U.S. cities.
Our mission is to improve health, education, and employment outcomes for the most disadvantaged Americans by using sports to transfer the skills necessary so that they can achieve these outcomes for themselves. We also seek to raise awareness about the challenges of poverty in America so that as a country we can develop a more level playing field for all.